Efficient and Reliable Conveyor Belt Systems for Your Retail Business
If you run a retail business, you know the importance of speed and efficiency when it comes to serving customers. Till point conveyors play a critical role in ensuring that your checkout process is smooth and hassle-free. At Omtech Food Engineering, we understand the unique needs of retail businesses and offer high-quality conveyor belts specifically designed for till point applications.
Our conveyor belts are made from durable materials that can withstand the daily wear and tear of a busy retail environment. They are easy to install and maintain, ensuring that your checkout process runs smoothly day in and day out. Our team of experts will work with you to customize a conveyor belt system that meets the unique needs of your business.
Whether you need a straight conveyor or a curved one, we have a wide range of options to choose from. Our conveyor belts come in various lengths, widths, and speeds to suit your specific requirements. We also offer a variety of accessories such as chutes and diverters to help you optimize your checkout process.
At Omtech Food Engineering, we pride ourselves on providing reliable and efficient conveyor belt systems for all types of retail businesses. Our experienced team is dedicated to delivering the highest level of customer service and support to ensure that your conveyor belt system operates at peak performance.
Investing in a high-quality conveyor belt system for your till points can significantly improve the speed and efficiency of your checkout process, leading to increased customer satisfaction and higher profits for your business. Contact Omtech Food Engineering today to learn more about our conveyor belt systems for till point conveyors.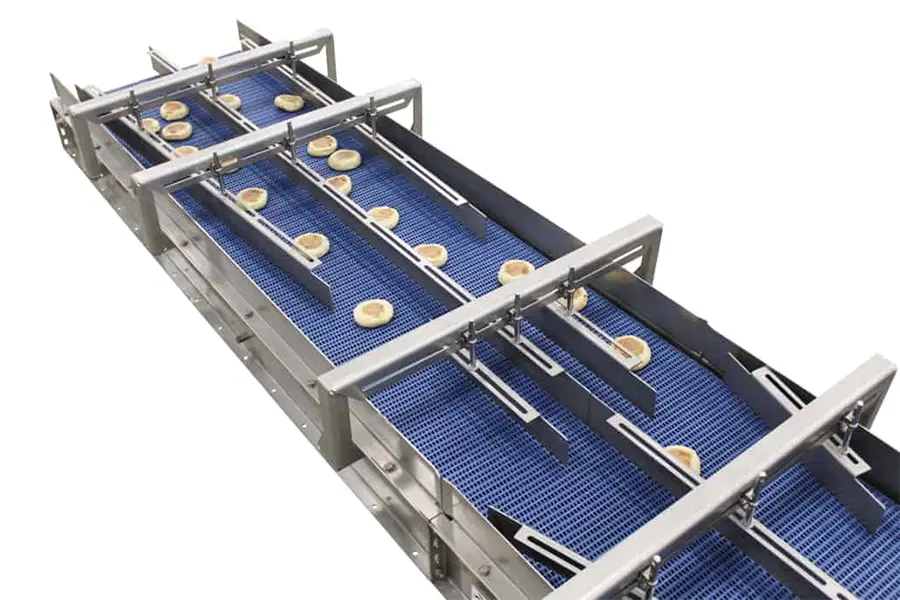 Conclusion
In conclusion, conveyor belts play a crucial role in the efficient material handling of products in the retailing industry. With the advantages of increased productivity and reduced labor costs, conveyor belts are an essential investment for any retailing business. Omtech Food Engineering offers high-quality conveyor belts and exceptional service to ensure that our clients can maximize their efficiency and profitability.